The CIMplicity Savings Program
Pay as little as $0*
With the CIMplicity Savings Program, eligible commercially insured patients may pay $0 per dose for CIMZIA.*
We understand that prescription drug prices can be confusing. If you have questions about CIMZIA affordability, your Nurse Navigator can help. For detailed CIMZIA pricing information, click here or talk with your insurance provider.
CIMplicity stepped in and helped me navigate through a lot of my insurance issues. They were able to answer a lot of questions about getting my medication.
—Brandy, CIMZIA patient
How to Request Your CIMplicity Savings Card
If you receive CIMZIA at your doctor's office (from a trained professional):
You must request the CIMplicity Savings Program from your healthcare professional.* If you are eligible for the Program, your doctor's office will activate your CIMplicity Savings Card (which works as a CIMZIA co-pay card) and keep your card's information at the office for future visits.
If you self-inject CIMZIA (using the prefilled syringe):
Find out if you're eligible for the CIMplicity Savings Program and request your savings card for prefilled syringes.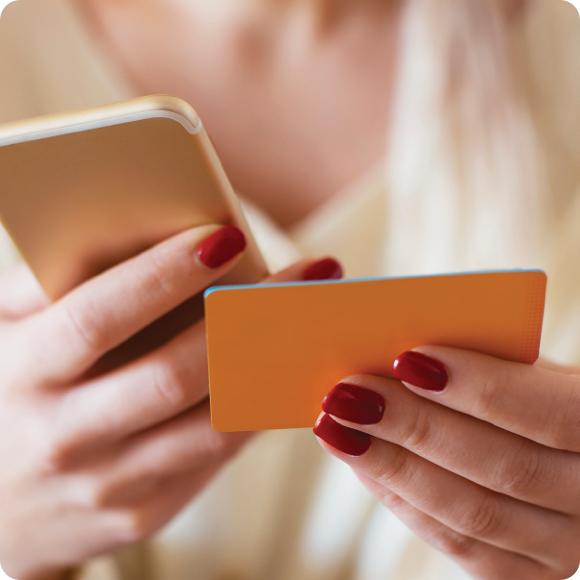 Using Your CIMplicity Savings Card
If you are eligible for the CIMplicity Savings Program, you can download your savings card here. It's important to have your savings card information (BIN, PCN, etc.) handy when paying for your prescription, even if you don't have a copy of your card with you.
If the pharmacy approved by your insurance company does not accept or is unable to process your CIMplicity Savings Card, call 1-844-277-6853.
Insurance delayed or denied?
The bridge between treatment and coverage
Additional restrictions apply. To see if you are eligible, please call 1-844-277-6853.
If your insurance coverage is delayed or denied, you may be eligible to receive free treatment for up to 2 years or until insurance coverage approval, whichever comes first.†
Frequently Asked Questions About CIMZIA Insurance Coverage
What happens after I transition from CIMplicity Covered to the CIMplicity Savings Program?
After the transition, you will be contacted by a specialty pharmacy to confirm your next shipment of CIMZIA. When they do, provide them with the information on your CIMplicity Savings Card.
Do I need to do anything to transition from CIMplicity Covered to the CIMplicity Savings Program?
If you haven't already, make sure you've signed up for CIMplicity by filling out the CIMplicity registration form. Once enrolled, you can download your CIMplicity Savings Card to help save on your CIMZIA treatment.
What is the CIMplicity Savings Card, and what does the program help cover?
Like a co-pay card, the CIMplicity Savings Card provides savings when you pay for your CIMZIA prescription. The CIMplicity Savings Program cannot be used for medical co-pays, such as doctor's office visits.
What if I don't have insurance?
If you do not have insurance, UCB's Patient Assistance Program may be able to help. Call  1-866-395-8366  to learn more.‡
*CIMplicity Savings Program Eligibility: Available to individuals with commercial prescription insurance coverage for CIMZIA. Not valid for prescriptions that are reimbursed, in whole or in part, under Medicare (including Medicare Part D), Medicaid, similar federal- or state-funded programs (including any state prescription drug assistance programs and the Government Health Insurance Plan available in Puerto Rico), or where otherwise prohibited by law. Product dispensed pursuant to program rules and federal and state laws. Claims should not be submitted to any public payor (i.e., Medicare, Medicaid, Medigap, TRICARE, VA, and DoD) for reimbursement. The parties reserve the right to amend or end this program at any time without notice.
†CIMplicity® Covered™ Eligibility: Eligible patients with a valid prescription for CIMZIA can receive treatment with the CIMZIA Prefilled Syringe at no cost for up to two years or until the patient's coverage is approved, whichever comes first. Program is not available to patients whose medications are reimbursed in whole or in part by Medicare, Medicaid, TRICARE, or any other federal or state program or where otherwise prohibited by law. Patients may be asked to reverify insurance coverage status during the course of the program. No purchase necessary. Program is not health insurance, nor is participation a guarantee of insurance coverage. Limitations may apply. For initial enrollment into the program, the patient must be experiencing a delay in, or have been denied, coverage for CIMZIA by their commercial insurance plan. To maintain eligibility in the program, the following are required: (1) a prior authorization request has been submitted and/or coverage remains unavailable for the patient; and (2) if the prior authorization is denied by the payer, the prescriber must submit an appeal within the first sixty (60) days of the prior authorization denial and a prior authorization must be submitted every six (6) months thereafter or documentation as may otherwise be required by the payer. UCB reserves the right to rescind, revoke, or amend this Program without notice.
‡If you are uninsured, other financial assistance may be available. Call ucbCARES® toll free at 1-844-599-CARE (2273) for more information. The CIMplicity program is provided as a service of UCB, Inc., and is intended to support the appropriate use of CIMZIA. Any CIMplicity program may be amended or canceled at any time without notice. Some program and eligibility restrictions apply. Please consult your doctor if you have any questions about your condition or treatment. You are encouraged to report negative side effects of prescription drugs to the FDA. Visit www.fda.gov/medwatch, or call 1-800-FDA-1088.